In recognition of National Homeownership Month, Fahe staff was joined by Joaquin Altoro, Administrator of USDA Rural Housing Service, and Dr. Thomas Carew, USDA-RD State Director of Kentucky to celebrate their milestone with Fahe. The video can be viewed here.
National Homeownership Month is a time to recognize the importance of how owning a home creates security, stability, and generational wealth. The USDA 502 Direct Program is one of the best ways for low-income rural Americans to join in on the experience and benefits of homeownership. Fahe is proud to announce that through our public /private partnership with United States Department of Agriculture Rural Development (RD), we have delivered more than half a billion dollars ($542,429,699) in USDA 502 Direct mortgages, to serve 3,213 rural households across the US.
How it Came to Be
The 502 Direct Program has been the backbone of affordable housing finance in rural America for decades. However, since the late 1990's, repeated cuts to Rural Development budget gradually reduced the department's presence in rural communities, resulting in slower turnaround for mortgages and uncertainty for housing developers and homebuyers. In an effort to support USDA RD staff and help expedite the 502 Direct process, Fahe led a group of our peers from across the nation to establish a formal Pilot with USDA-RD, creating a public/private partnership that tested, and confirmed, the potential for a nonprofit network to significantly improve the delivery of 502 Direct mortgages. This innovative Pilot became a permanent program in May, 2016.
"The USDA 502 Direct mortgages is an outstanding tool to deliver homeownership across the United States and to make homeownership a reality for low- and very low-income families who have no other options," stated Dr. Thomas Carew, USDA-RD State Director for Kentucky. "The evidence that Fahe is at $542 million in mortgages tells us that the packaging program is very successful. That's a testament to Fahe that they figured out way to make this happen when it had never been done before."

Since 2009, Fahe has grown to coordinate a packaging network of over 200 packaging partners that extends not only through our direct service area of the six Appalachian states of Kentucky, Tennessee, West Virginia, Virginia, Maryland, and Alabama, but across a total of 18 states. Over the course of the program, we've worked with USDA to create a systems change of how mortgages are able to reach people in this country, going from just low-income rural to penetrating areas of deep persistent poverty. The USDA 502 Direct Packaging program is helping change how capital flows to low-income and BIPOC communities.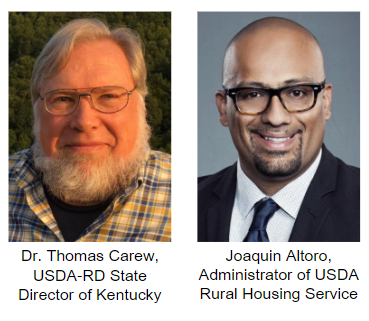 502 Direct is An Investment in the Country
Homeownership is one of the best ways to build wealth in this country. The 502 Direct loan provides terms up to 38 years, 100% financing, and an interest rates as low as 1% APR, therefore being accessible to low- and very low-income people, allowing them the opportunity to invest in themselves and create wealth through equity. Homeownership directly translates into community investment, intangibly through families putting down roots, and tangibly through contributions to the local tax base. With the country in the midst of a housing crisis which disproportionately affects low-income rural and BIPOC communities, the stability offered by the USDA 502 Direct Program to these vulnerable populations is more important than ever. In an effort to ensure all Americans have access to housing, Fahe has collaborated with RCAC, a fellow Partners for Rural Transformation member, to expand access to 502 Direct mortgages to BIPOC communities. Funding from Wells Fargo has supported the collaboration's outreach to potential mortgage packagers among organizations serving BIPOC communities across the United States many of which are BIPOC operated. In the South alone, Fahe's dedicated outreach connected dozens of BIPOC organizations to the program through our ability to present the 502 Direct Packaging program at regional conferences.
"We are meeting with dedicated and mission-driven organizations, some of which didn't know how to access these mortgages or didn't know they existed. I see passionate packagers who are excited to learn and participate in Fahe's hands-on training so they can help people move forward in life by making an investment in themselves through a mortgage," stated Jamie Puckett, Fahe's Mortgage Loan Production Manager.
"The 502 Direct program is honestly the best program out there for housing," said Puckett. "We are serving people who would be turned down by other lenders and be left believing homeownership is unachievable. These are people who work, pay bills, and live their lives like everyone else. Why should they not have the same opportunity of people with higher income or who live in functioning markets? Why can't they have a decent, safe home? 502 Direct creates pride, wealth, and a positive generational trajectory."
Looking to the Future
"I think we're at a really unique time right now," stated Joaquin Altoro, Administrator of USDA Rural Housing Service while addressing Fahe staff about the impact of the 502 Direct Packaging program. "If we think about the last 25 years, when it comes to housing, the only time we've heard about housing is when it was strictly discussed as an urban issue. There's a renaissance happening, which excites me. I really, truly believe the conversation of housing and affordability is becoming a priority to our national agenda. The reason why is because it's percolating from rural America. It's percolating from the energy, sweat, and tears you all are putting into this."
Fahe looks forward to our continued partnership with USDA in expanding access to 502 Direct and innovating other methods for delivering transformative housing across the country. USDA is a great partner for rural America and in order for RD to expand its ability to invest in our communities, it needs to be able to invest in itself. To expand and improve upon the 502 Program and to create other programs that support housing, we will need to rely on existing and future regional and national partners to bolster our Strength in Numbers, to provide input and support to USDA, and to let policy and decision makers know how important these programs are to building thriving communities. Support and advocacy for USDA RD can help encourage the necessary funding needed to improve internal systems and allow for more efficiencies and higher capacity in qualifying loans. We also encourage investors, donors, and philanthropists who care about rural communities to listen to and fund underinvested local leaders serving low-income and persistently poor rural places and BIPOC communities. This will allow the 502 Direct Program to expand during a housing crisis, allowing families to invest in themselves, their communities, and ultimately the country.
---