Children who have access to safe, affordable housing and a local support system grow up healthier, happier, and have greater opportunities in life.  In honor of National Child Health Day, which occurs on the first Monday of October, we wanted to focus on the opportunities the recently opened Eastern Scholar House (ESH) in Richmond, KY allows for children.
A child's home environment has a direct impact on three primary areas of his or her well-being – physical health, social and emotional functioning, and cognitive development.  There are several aspects of a home that can have either a positive or negative effect on these three areas—the quality of the home, the cost of the home (which can influence the parent's ability to buy food, medicine, and other essentials), the length of the family's stay in one place, and the neighborhood environment.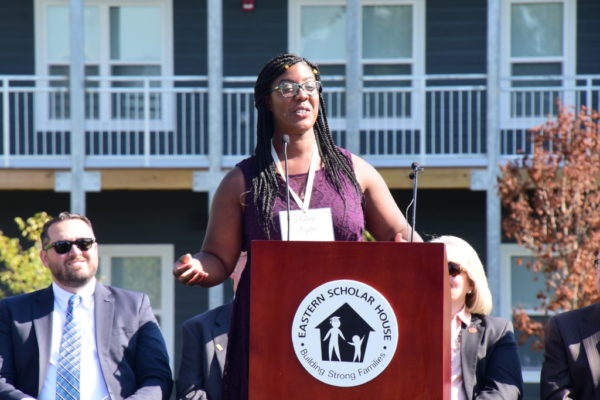 "One of the biggest motivations to go back to school was my son," said Whitney Ballew, a resident of Eastern Scholar House. "I wanted to show my son that even if you take a break [from school] or come from different paths, you can still pursue you're dreams." Whitney chose to live at ESH while she attended school not only for the support system and income-based rent, but also because it provides her son with the right environment for positive, healthy growth.  The Eastern Scholar House requires children to be enrolled in the on-site child development center.  Child development services are administered through Fahe Member Kentucky River Foothills Development Council, Inc.'s (KRFDC) Early Head Start / Head Start program.  The child development facility includes five classrooms for children, offices for program staff, meeting space, a playground, and a computer lab.
The Eastern Scholar house is open to eligible full-time students enrolled in an approved post-secondary institution such as Eastern Kentucky University, Berea College, University of Kentucky, Bluegrass Community & Technical College, Morehead State University, and others. The program helps to increase self-sufficiency and combat generational poverty by removing some of the barriers to affordable housing and child care costs which are an impediment to increased education, job attainment, and independence.
The Eastern Scholar House would not be possible for the children or their parents without the help of several key partners.  Kentucky River Foothills Development Council, Inc. manages and operates the Eastern Scholar House, Ohio Capital Corporation for Housing made a $7.5 million investment, the City of Richmond and Richmond Section 8 provided a block grant and assistance, Eastern Kentucky University provided a long-term land lease, and Fahe provided assistance in various sources of funding including a $6 million construction loan through Fahe Community Loan Fund.
We would also like to offer a special thanks to Kentucky Housing Corporation (KHC) for being the primary funder with $8.4 million via tax credits and Trust Fund.  KHC has been a long-standing champion for the construction of Scholar Houses across the state of Kentucky in cities such as Lexington, Louisville, Bowling Green, Paducah, Owensboro, and Pikeville.  Their support provides educational opportunities in rural areas which traditionally have lower access. We hope to see such opportunities for more families and children across Kentucky in the future.
"Not only am I pursuing my dreams for industrial psychology," said Ballew, "but my son has the opportunity to pursue his dreams because he's going to be an attendee of the Head Start.  The Eastern Scholar House is a blessing because I didn't think I would make it.  I wouldn't be here be here without their support."
For families interested in enrolling in the Eastern Scholar House or for more information, please visit KRFDC's page or contact project director Melissa Gross at 859-624-2046 ext 1135 for more information.