Students left college campuses abruptly in the spring, and their experience for the fall remains unknown.  While many campuses suspended internship programs, Fahe found ways to pivot and provide safe learning opportunities.  We are proud to announce the Fahe Appalachian Internship Program has kicked off its 2020 summer term.
We are excited to introduce our 2020 summer intern Steven Stewart, a graduate student at West Virginia State University who is participating in the Fahe Appalachian Internship Program's 10-week internship began May 18. Steven's internship is located at Fahe Member Religious Coalition for Community Renewal (RCCR) in Charleston, WV. Steven's placement is our first internship from West Virginia State. We are excited to deepen our partnerships with Historically Black Colleges and Universities (HBCUs) and this is due in part to Wells Fargo's generous funding of the Appalachian Internship Program.
Steven is currently a graduate student seeking a Master's of Public Administration at WVSU, where he also received his undergraduate degree in 2009. Steven applied to Fahe's Appalachian Internship Program to participate with RCCR for the summer term of 2020.He anticipates the experience and hands on learning of the internship will help him better understand his course work in Public Policy and Human Resource Management.
Originally from East Cleveland, Ohio Steven moved to West Virginia in 1985 to enroll at West Virginia State College.
Steven has nearly 25 years of experience providing home improvement services as a property manager. He also has experience helping participants obtain non-subsidized housing via the Family Self Sufficiency (FSS) program under Charleston Housing.
Steven is involved in the community as a member of Washington Lodge #4, Prince Hall Affiliated, and worships at Faith Community Church on the West Side of Charleston.
Fahe was very pleased that even with the unexpected impact of the COVID-19 pandemic, the internship opportunity at RCCR was able to move forward. The project work has been planned with a blend of virtual and in-person settings, with social distancing implemented as needed. This particular intern project will be focused on RCCR's Samaritan Inn sober living program that is working towards the national certification for recovery residences. The internship will add capacity for research, analysis, and the development of RCCR's quality affordable housing program policies.
The Fahe Appalachian Internship Program coordinator Angela Stephens looks forward to connecting with both RCCR and Steven throughout the 2020 summer term. This is Fahe's fourth year implementing the program, and each year brings an exciting mix of new interns and project work that brings valuable capacity to the Fahe Network, while connecting with students, colleges, and universities all across the Appalachian Region.
An additional focus this year was engaging with HBCUs in the region, which included a visit to WVSU's Office of Career Services in March 2020. "We are fortunate to have been able to visit with WVSU to share about the internship opportunities just before things shut down due to COVID-19," Angela shared.
"In the middle of this unprecedented season filled with uncertainty, it is very exciting to see this internship opportunity still be able to come together – both for the intern Steven and Fahe's Member RCCR." We look forward to sharing additional updates as the program continues this summer term!
The Fahe Appalachian Internship Program
Program Background
Fahe's internship program began in 2017 with a pilot, in response to Fahe Members' interest in retaining young leaders in the region by offering students internship opportunities in the Appalachian region, and introducing students to the work of Fahe's nonprofit Network. The first year of the program, seven interns were recruited for internships located at Fahe Member organizations located across West Virginia, Tennessee, and Kentucky, including a few hosted by Fahe's departments at the Berea, KY office.
Over the summer terms of 2017-2019, the program placed 18 interns in positions at 10 Fahe Members across 3 states. Completed internship projects have been in areas of Marketing and Communication, Business/Management, Finance & Finance Analysis, Public Relations, Research and Evaluation, and Community Development.
Program Design
The program model is similar to a hub & spokes: Fahe coordinates the program and provides administrative support, recruiting students who are placed with Fahe Member organizations to complete specific internship projects. Interns are supervised and mentored throughout the term by the Fahe Member and the program provides resources and additional opportunities during the term for broader connections across the program by peer-sharing and networking to help interns learn about Fahe's nonprofit Network.
Program Objectives
To equip young leaders with a place-based perspective and new tools, education, and experience needed to shape a more prosperous and positive future.
To provide our nonprofit Network with broader skillsets and fresh perspectives.
To attract and retain professionals who will be our next generation of leaders.
Interns
Feedback from participating interns has been very positive, and some students have said after their experience, they could see themselves working in the nonprofit world when they graduate. One intern shared, "The idea an organization like Fahe exists is remarkable to me. The ability to contribute to non-profit organizations in a unique, diversified way is one of the reasons why I would recommend this internship to anyone thinking about going into the nonprofit sector. I'm confident that in whatever field I choose to pursue, my time with Fahe has set me up to be successful."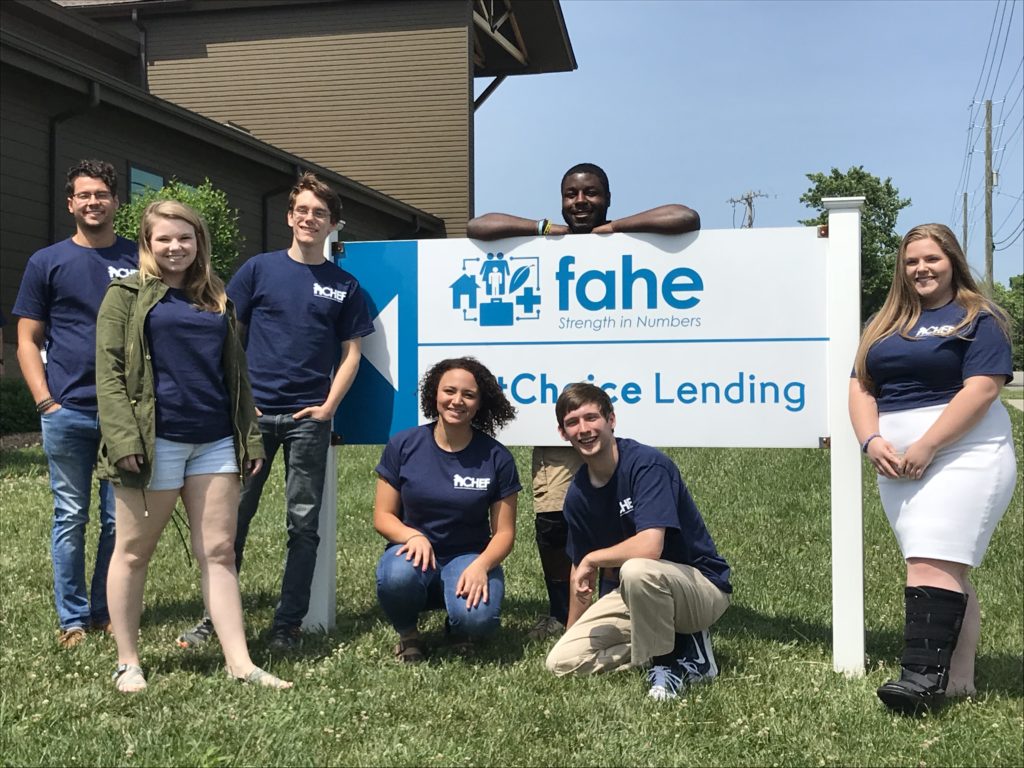 Capacity
Interns have provided important expertise and capacity to Fahe Members in areas of business, communication, and other professional services. Some internships have involved revising a Member's website, developing an annual report, researching financial compliance, etc. Supervisors have shared glowing evaluations and appreciation for the program framework/structure that kept the red tape to a minimum and provided support with recruiting, structure, and other program coordination during the term. Organizations have also been excited for the opportunity to invest in students from the Appalachian region, and several interns have been recruited right from their local community.
The Appalachian region needs more leaders with the capacity to design programs and craft solutions that are innovative, place-sensitive, person-focused, and efficient in the use of available resources.
The Appalachian Internship program provides the quality, hands-on experience that is needed to develop engaged leaders. The program takes a similar long-term view and collaborative approach we utilize in engaging with our Network of local nonprofits. Right now, in the midst the COVID-19 pandemic and the rebuilding that lies ahead, capacity will be needed more than ever. This thoughtful strategy towards internship helps our Members, both in the present and the future, create opportunity in the region that ensures no communities are left behind.