How Reducing Affordability Barriers Can Unlock the Gateway to Enduring Prosperity
Part II in the Closing the Digital Divide in Appalachia Series
Pandemic lockdowns, home confinement and the swift transition to remote work, telehealth and virtual learning all combined to erase any doubt of the necessity of reliable broadband. However, as many families' daily lives and routines shifted, it also revealed the magnitude of the digital divide and the deep inequalities faced by those without internet access.
Besides basic connectivity with friends and family, broadband offers essential access to education, health care, employment, career training, government services, and other basic necessities for economic, medical, and mental wellness. No longer just a convenience or commodity for those with financial means, high-speed internet access is now a necessary conduit to participation in our modern economy. For low-income families already facing many adversities, inaccessible and unaffordable broadband can rob them of opportunities for economic mobility, improved quality of life and their pathway to reach their American Dream.
As historic federal investments in infrastructure flood state and local governments, bridging the digital divide will require more than simply deploying physical hardline networks. Although access to broadband connectivity is a critical first step in closing digital gaps, the FCC notes that as of December 2018, approximately 34.9% of U.S. households with available fixed broadband connections did not subscribe. So why would families forego a valuable opportunity to connect to a high-speed data network?
Costs can be a Barrier to Affordable Broadband Access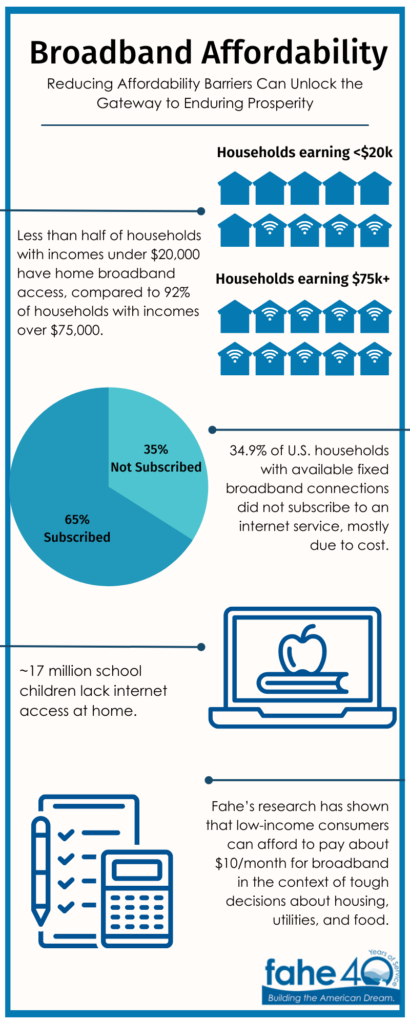 According to a recent report from digital inclusion advocate EveryoneOn, cost and lack of equipment were cited as the most common barriers. In fact, its national survey on internet connectivity and computer ownership among lower-income and working-class households discovered that 34% of respondents cited the cost of monthly subscription services and computers as the top reason for not having broadband access at home. Perhaps even more revealing of this relationship between digital access and wealth, the FCC reports less than half of households with incomes under $20,000 have home broadband access. Comparatively, 92 percent of households with incomes over $75,000 report having broadband service in their homes.
Moreover, the FCC also estimates that nearly 17 million school children lack internet access at home. Consequently, this digital affordability gap not only yields exclusionary consequences for today's workers, but the ensuing nationwide "Homework Gap" can also lead to long-term educational and economic disparities for future generations as well. In order to create a more inclusive digital economy for both today's workforce and tomorrow's emerging leaders, investments are needed to bridge affordability gaps for high-speed data services and internet-capable devices for all of our neighbors.
Discount Programs can Expand Affordable Broadband Access
As policymakers, service providers, and other stakeholders contemplate strategies to contain supply-side internet costs, investments on the demand side can help stimulate market forces that support expansions in affordable broadband access. Targeted programs that allow customer discounts and subscription cost reimbursements can help families financially accommodate broadband service bills into their budgets. In turn, this new demand from previously disconnected subscribers can fuel organic increases in the return-on-investment prospects for commercial providers, further incentivizing hardline deployment projects in lower-income communities.
In fact, Congress's own Emergency Broadband Benefit (EBB) program created in the wake of the pandemic underscores this rationale. Under the EBB program, economically disadvantaged households received a $50 per month stipend or credit to apply towards payment for broadband service. As a result, since the onset of the pandemic, more than seven million households with incomes of $50,000 or less have enrolled in EBB-supported internet cost relief programs. Moreover, the surge in enrollment under the EBB has since led Congress to extend many of its temporary provisions to a longer-term, recurring investment program under the Affordable Connectivity Program (ACP).
Fahe Member Neighborhood Concepts is Making Broadband More Affordable for its Neighbors
In devising solutions to overcome broadband cost barriers, policymakers and service regulators need to look no further than the locally-driven community collaborations between internet providers and Fahe's own Network of community developers and on-the-ground leaders. In Huntsville, Alabama, Fahe Member Neighborhood Concepts is partnering with Google Fiber to implement a first-of-its-kind plan in the area that would bring gigabit-speed internet to lower-income residents of the Spring Branch community.
Neighborhood Concepts Executive Director Mary Ellen Judah says there's a big need for broadband in her communities, especially for families with school-aged children. Even before the pandemic, many schools started issuing laptops to students as online coursework became a component of most curricula. Judah says children who live at NCI properties are fortunate to be able to take advantage of the free wi-fi offered in the properties' clubhouses, but that isn't the case for many working families. Those without access to the internet in their homes or neighborhoods can sometimes be seen parked in their local school parking lots at night so their children can use the free wi-fi signal and complete their homework.
Judah says the opportunity to offer quality internet service and discounted devices will benefit local residents more than they expect. She noted, "Most would agree that $70 or $80 dollars a month for internet service is expensive, but find the resources to pay it because they understand the value … many of our residents can't afford to understand that value."
In addition to the $30 monthly discount residents can receive through the federally funded Affordable Connectivity Program, Google Fiber has agreed to install all of the networking equipment in each home at no cost and hopes to provide an additional monthly discount of $20 off user service bills later this year. When combined with the ACP price offsets, residents will receive high-speed, quality internet for around $20 per month. This lower monthly price point more closely tracks with Fahe's ideal broadband affordability target of roughly $10 per month in our broadband policy analysis.
Google Fiber is expected to begin installation of the network equipment around May of 2022. Judah says she was originally approached by the Nonprofit Technology Enterprise Network (NTEN), an organization focused on technology utilization. She says she has assigned a staff member to participate in their Digital Inclusion Fellowship, sponsored in part by Google. She hopes that the fellowship will help her team better train local residents in more informed technology applications and practices, such as device usage, safety, security, and internet vulnerability awareness.
The COVID-19 pandemic brought long-overdue attention to the digital divide and the severe challenges it's created. Overcoming the barriers to affordable internet service will require an investment of resources and dedication commensurate with the scale of the problem. Stakeholders in government, business, and community leadership will need to join together in order to identify the neighborhoods where cost and accessibility obstacles are preventing local families from participating in our interconnected digital economy. By balancing both hardline deployment and cost offsets, investments in more inclusive digital infrastructure can improve equitable access to economic, medical, and educational gateways and build prosperity for every family—no matter where they live.